Mitchell Posner, MD
Thomas D. Jones Professor of Surgery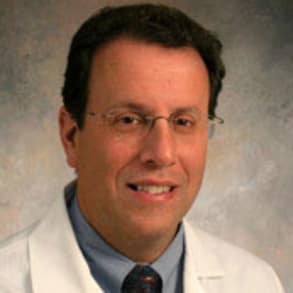 Internationally recognized as an expert in the management of upper gastrointestinal cancers, Mitchell Posner, MD, ranks among the country's best doctors, according toChicago magazine and the physician rating service Castle Connolly Medical Ltd. Dr. Posner couples his skill as a cancer surgeon with an intense commitment to multidisciplinary care, providing his patients with optimal outcomes. His peers regard him as an authority on all GI cancers, especially cancers of the esophagus and pancreas.
Dr. Posner's work goes beyond the operating room. In the lab, he focuses on the molecular basis of malignancies, which has enabled him to design and guide groundbreaking clinical trials for cancers of the pancreas, esophagus, colon, stomach, rectum, and liver. With more than 30 years of experience, he has won dozens of awards and published 200 articles, abstracts, and book chapters.
In 1995, after serving as director of the Colorectal and Gastrointestinal Cancer Center at the Pittsburgh Cancer Institute, Dr. Posner came to the University of Chicago Medicine as chief of surgical oncology and director of the Surgical Oncology Fellowship Program. In 2005, he was appointed chief of the Section of General Surgery. In 2006, he became vice-chairman of the Department of Surgery, and a year later was named vice-chairman of clinical affairs. In 2011, Dr. Posner was appointed medical director, Clinical Cancer Programs of the University of Chicago. Dr. Posner has won the University's Robert J. Baker Award for Excellence in Teaching, as well as the Basic Science and Clinical Research Award from the Society of Surgical Oncology.
Currently, Dr. Posner serves as chairman of the Gastrointestinal Committee of the American College of Surgeons Oncology Group (ACOSOG), the only national, surgically-focused cooperative group dedicated to clinical trials research. He is also past president of the Society for Surgical Oncology, the largest professional organization of cancer surgeons in the world, and is on the editorial board for esteemed industry journals, including Annals of Surgery, Annals of Surgical Oncology and Journal of the American College of Surgeons.
Practice Locations
Duchossois Center for Advanced Medicine
5758 S. Maryland Avenue
Chicago, IL 60637
Board Certifications
General Surgery
Surgical Oncology
Medical School
State University of New York Buffalo
Internship and Residency
University of Colorado, Denver
Fellowship
Memorial Sloan-Kettering Cancer Center
Memberships
American Hepato-Pancreato-Biliary Association
American Society of Clinical Oncology
American Surgical Association
Society for Surgery of Alimentary Tract
Society of Surgical Oncology
Society of University Surgeons
Language Spoken
English
Email
mposner@surgery.bsd.uchicago.edu
Office Phone
(773) 834-3524
Office Fax
(773) 702-6120
Office Postal Address
Mitchell C. Posner, MD
The University of Chicago Medicine
5841 S. Maryland Avenue, MC 5094
Chicago, IL 60637
---